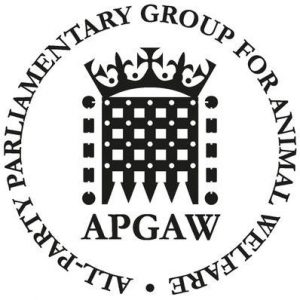 NB: This is not the APGAW annual workplan. It is an overview of issues which APGAW has worked on and keeps on its rolling agenda of issues to watch for Government progression. All issues listed below are those that has had some form of Government action.
Key Developments from Government
General Animal Welfare
Sentience – As part of the consultation on sentencing the Government also consulted on proposals to introduce the consideration of animal welfare as a required part of Government policy development[1]. The Government has decided to develop this proposal further and separate it out from the sentencing aspects it originally consulted on. We are still waiting for a more defined Bill following feedback on its original draft wording.
Brexit Farming Issues – The Agriculture Bill has been introduced to Parliament and is currently awaiting Report Stage and Third Reading in the Commons. It is broadly in line with the areas we have identified as key aims in past meetings. The Trade and Customs Bills are both awaiting their next Parliamentary stages. Everything Brexit-related stalled towards the end of last year as focus shifted back to the topline issues, crucially the exit deal (or no deal, as the case may be). Government confirmed mandatory MoP labelling on agenda post Brexit as part of Bill.
Sentencing – Following the joint consultation on sentience we are expecting the Government to introduce a Bill on this issue in due course, either a standalone or as part of a bigger Bill as previously mentioned.
Companion Animal Welfare
Shock collars – The Government held a consultation on a ban on the use of shock collars which closed in April 2018. In August 2018 the Government announced its intention to move forward with a ban on the use of shock collars for cats and dogs although containment fences will not be banned[2]. Legislation is awaited.
Third party puppy sales – In late December, the Government committed to a ban on third party sales of puppies and kittens via an amendment to the new licensing Regulations. There are concerns that this may not be done in tandem with closing loopholes and providing strong enforcement so work will be done in encouraging Defra to ensure this ban is effective.
Licensing Regulations – The Animal Welfare (Licensing of Activities Involving Animals) (England) Regulations 2018 passed both the House of Commons and Houses of Lords in March 2018. They came into force in October 2018[3]. APGAW has previously held views that wider activities could be included in the future under these Regs including animal trainers/behaviourists which we will return to in due course.
BSL – The EFRA Select Committee launched an inquiry into this in June 2018. The recommendations were very positive and encouraging however we await the Government's formal response to this in January.
Livestock Worrying– Defra have recognised this as a significant problem following the APGAW and police report and the Minister committed to looking at the DDA as a tool for enforcement. If that is not possible the Protection of Livestock Act should be reviewed and amended to which the Minster is open but time to do this is not likely to be available for a while. APGAW will continue pushing stakeholders to do the responsible dog ownership work in the meanwhile.
Farm Animal Welfare
Abattoir Provision – The FSA under the direction of Defra are currently looking at the Regulations, how they affect smaller abattoirs and considering where small amendments could be made post Brexit to assist smaller abattoirs.
Live animal exports – The Government held a consultation on this issue which closed in May. Currently awaiting the Government's response and next steps – expected January 2019.
Wild Animals
Trapping standards – The Government held a consultation on this which closed in April. They published their response in July 2018 and proposal in December; standards will come into force in 2019. This will help trapped animals especially stoats but could stop any fur import ban.
Wild animals in circuses – A commitment has been given from the Government for a Government Bill on wild animals in circuses but don't know when (post implementation review of Regulations indicates a commitment to a ban by January 2020)[4]. Still not had a Second Reading. Bill in some form expected (either a standalone or an overarching animal welfare Bill with other issues, such as sentencing and sentience) to be introduced in the second half of 2019.
Ongoing Aims
Policy Aim
Activity
Future Action
End non-stun slaughter
Government looking at labelling as part of the Agriculture Bill and have committed to some action, though not on slaughter specifically.
Continue working with BVA and

RSPCA on this issue.

Ban on live exports for slaughter
Awaiting Government response to their consultation and wider progress on Brexit. Outcome more or less entirely dependent now on what post-Brexit trade policy we pursue.
Await Brexit trade policy developments
Mandatory standards to improve welfare for pet activities
The Guidance to compliment the new Licensing Regulations has now been published. Still too early to tell what impact this has had. Provides a framework to get other activities licensed, for example behaviourists and trainers, sanctuaries, etc.
Will revisit standards for dog, cat and horse behaviourist/trainers later in year
Responsible pet procurement
Government committed to introducing a ban on third party via an amendment to the new licensing Regulations. This needs to be done alongside other measures such as licensing of sanctuaries/re-homing, stopping illegal imports and an education campaign.
APGAW will support the key stakeholder ask for licencing of sanctuaries/rehoming centres
Mandatory method of production and slaughter labelling
Government have repeatedly committed to action in this area, particularly on method of production. It has been often discussed in the debates on the Bill so far.
Last APGAW meeting was difficult and failed to obtain any consensus. Will review in summer
Animal welfare mandatory in education
Government has become more pro-active on amimal welfare and therefore more likely to consider education initiatives. There is also a lot of appetite amongst MPs to work on this issue. New briefings on education and RSPCA Generation Kind have been produced by key stakeholders. A letter to the relevant Secretary of State, jointly with other members of the Animal Welfare Education Alliance,is in progress.
Following APGAW's discussion on this it was felt that education should not be limited to the school environment and the curriculum. .APGAW is working with PfMA and members of the AWEA on this issue
Brexit issues: sentience and model for leaving
Sentience – awaiting Government action. This may be included in the possible animal welfare Bill with sentencing and circuses. Government are still committed to sentience but how and when (2020) up for debate. With latest developments on Brexit things are getting more complex and attention on detail has been lost.
APGAW will continue keeping an eye on this and will brief MP as necessary as well as raising matters of detail where necessary.
Abattoir Provision
The closure of small and medium size abattoirs has been raised with Defra by APGAW and the key stakeholders who have now asked the FSA to look at the regulations. There has been some discussion about grants or funding coming through the Agriculture policy in future as part of the drive for animal welfare, sustainability and environmental improvement.
APGAW has committed to looking at welfare at slaughter and has said this will be an issue to consider
[1] https://consult.defra.gov.uk/animal-health-and-welfare/consultation-on-the-animal-welfare-bill/
[2] https://www.gov.uk/government/consultations/animal-welfare-banning-the-use-of-electronic-training-collars-for-cats-and-dogs
[3] https://www.legislation.gov.uk/uksi/2018/486/contents/made
[4] https://researchbriefings.parliament.uk/ResearchBriefing/Summary/SN05992#fullreport